{Home}
Ferrymead
---
This is me (3rd from right) working at Ferrymead.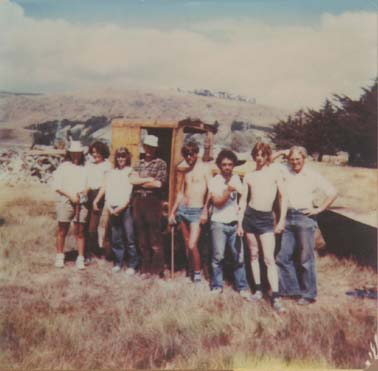 I think we were out cleaning the rust off the thing behind us (hammering it off with the tools you see in our hands). A well-dressed man was wandering around the very extensive fields out the back of Ferrymead, taking photographs with a Polaroid Land camera (I think. The kind that spits out each photo and develops it on the spot). One of us asked if we could have our photo taken and he kindly agreed (even though I imagine a single exposure wasn't cheap). We posed in the bright sun, and this is the result. I think we had copies made -- I doubt that I would've got the original. I brought a few photos from home over with me to the US. I'm not sure why, but this was one of them. The paper is printed "Kodak, 1981." It's a little depressing to think that the photos I'm taking now might've deteriorated this much in 19 years. Perhaps the process has improved since '81. I hope so.
Sadly, I can't remember many names of the people above. The leftmost is Penelope, I think and the rightmost is definitely Greg Ratcliffe, a friend from High School and University who I've lost touch with. I think it's Gerrard in the middle with the hat. Not in the photo are two women I do remember -- Penny and Sally... My two or three months summer work at Ferrymead was wonderful. I've probably never been so fit. I made some great friends and had a lot fun. I spent a lot of time driving a tractor around the site transporting materials and people here and there. Sometimes I'd have to back the thing up, with trailer. I wasn't very good at it and frequently sheared-off the bolts holding the hitch onto the trailer (slow motion jack-knifes).